27 May 2022 – Unique Rodon Church Opens its Doors after Renovation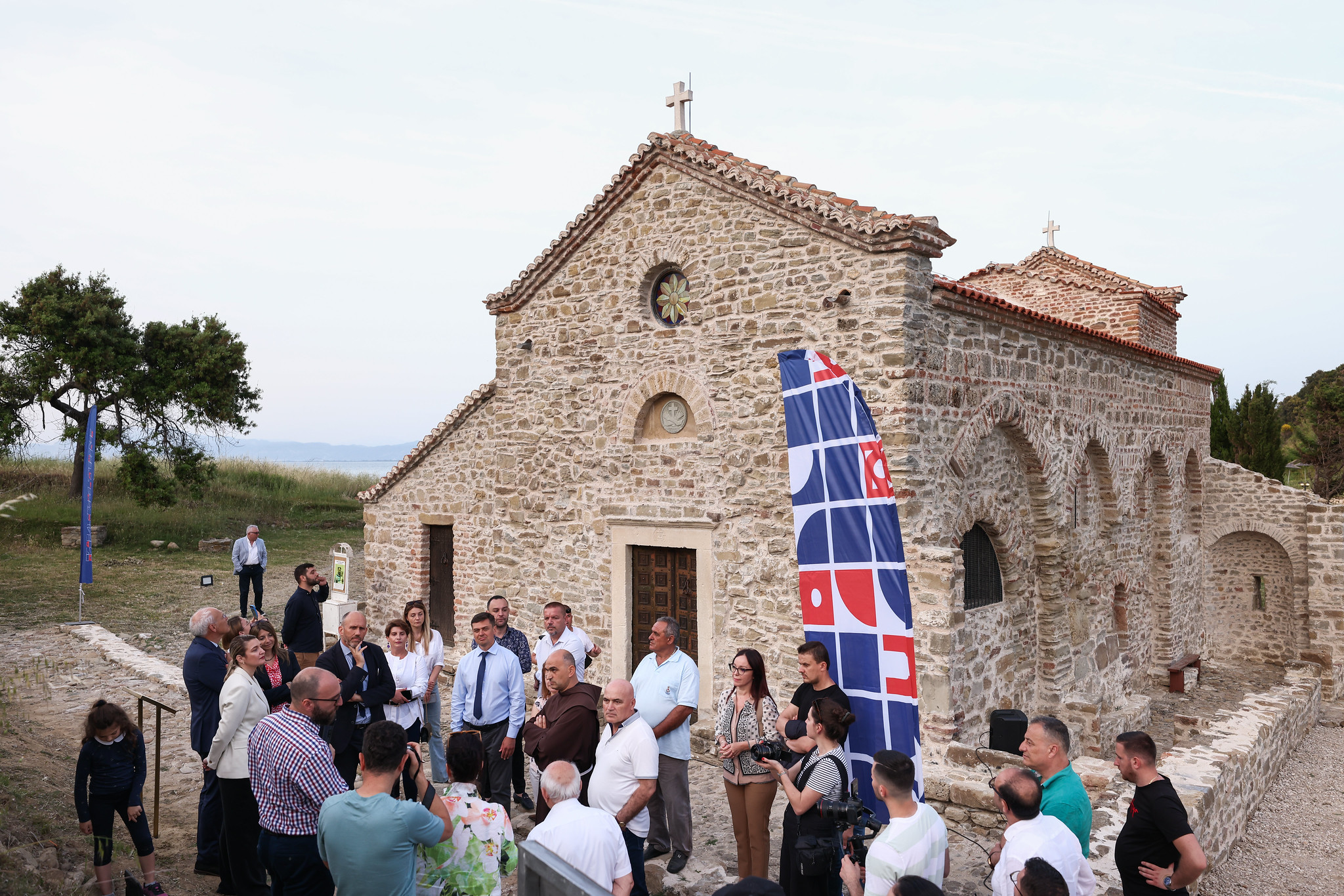 The inauguration ceremony of the St Anthony Church held today on Cape Rodon marks completion of the renovation works conducted earlier this year. The church was damaged by the 2019 earthquake and restored under the EU4Culture programme funded by the European Union and implemented by UNOPS in close cooperation with the Ministry of Culture of Albania.
St. Anthony's Church is one of a few surviving examples of a synthesis of regional and Byzantine architectural styles. The Church bears testimony of a long history, and coupled with natural areas and the coastline, this cultural heritage site has a great potential to contribute to local economic development.
The conservation interventions focused on repair and consolidation of the historical masonry, electrical installations and drainage around the church. Conservation works are currently underway on seven cultural heritage assets across Albania, while further nine are scheduled to start this year. Among them, the Ethnographic museums in Kruja and Kavaja, the Venetian Tower in Durres, the Castle of Bashtova and the Former Archbishopric in Delbnisht. In December 2021, renovation works have been completed at the Monastery Church of Rubik.
The inauguration ceremony was attended by Elva Margariti, Minister of Culture of Albania, Alexis Hupin, EU Delegation to Albania Chargé d'affaires, Ambassador of Germany Peter Zingraf, Church representative, frat Landi Jaku and Pamela Lama, UNOPS in Albania Country Manager. It was followed by a concert by a prize-winning Albanian Opera singer Marjana Leka and pianist Laura Lila.
"We are happy to celebrate the inauguration of this church which connects together the sacredness, the legend, and community under culture. The work we are celebrating today has been very delicate and brought together engineers, historians, a team of the Ministry of Culture and UNOPS and many experts. This has not only been a restoration but a revitalisation as well, it has gone with our comom philosophy after the earthquake 'Build back better' " noted Elva Margariti, Minister of Culture of Albania.
"St Anthony church is just one of many irreplaceable cultural landmarks of Albania that the EU is helping restore and revitalise under the EU4Culture programme, in order to stimulate local economic development. EU4Culture is the biggest and most ambitious cultural heritage programme ever undertaken by the EU in the Western Balkans, and it shows the solidarity and great priority that the EU and Team Europe gives to Albania," underlined Alexis Hupin, EU Delegation to Albania Chargé d'affaires.
"I think this is a very good example of using funds to save cultural monuments that are endangered. I am very proud that this was possible some 20 years ago. I don't know if I can speak about the European Union but I can speak about Team Europe. So I can only repeat 'Evropa eshte ketu', and this means that this cooperation over many years, and this project that saved the church, that made it beautiful again is a good example of the coordination and cooperation we do together here in our partner country Albania." noted Peter Zingraf, Ambassador of Germany to Albania.
"For UNOPS it is a great honor to be a trusted partner of the European Union and the Government of Albania in implementing such an important initiative. In coordination with the Ministry of Culture and the EU we are currently conducting conservation works on seven cultural heritage assets, and we will start works, finalize procurement or design processes on nine more sites in the near future" noted Pamela Lama, UNOPS in Albania Country Manager.