May 2022 – Raising the bar on cultural heritage engagement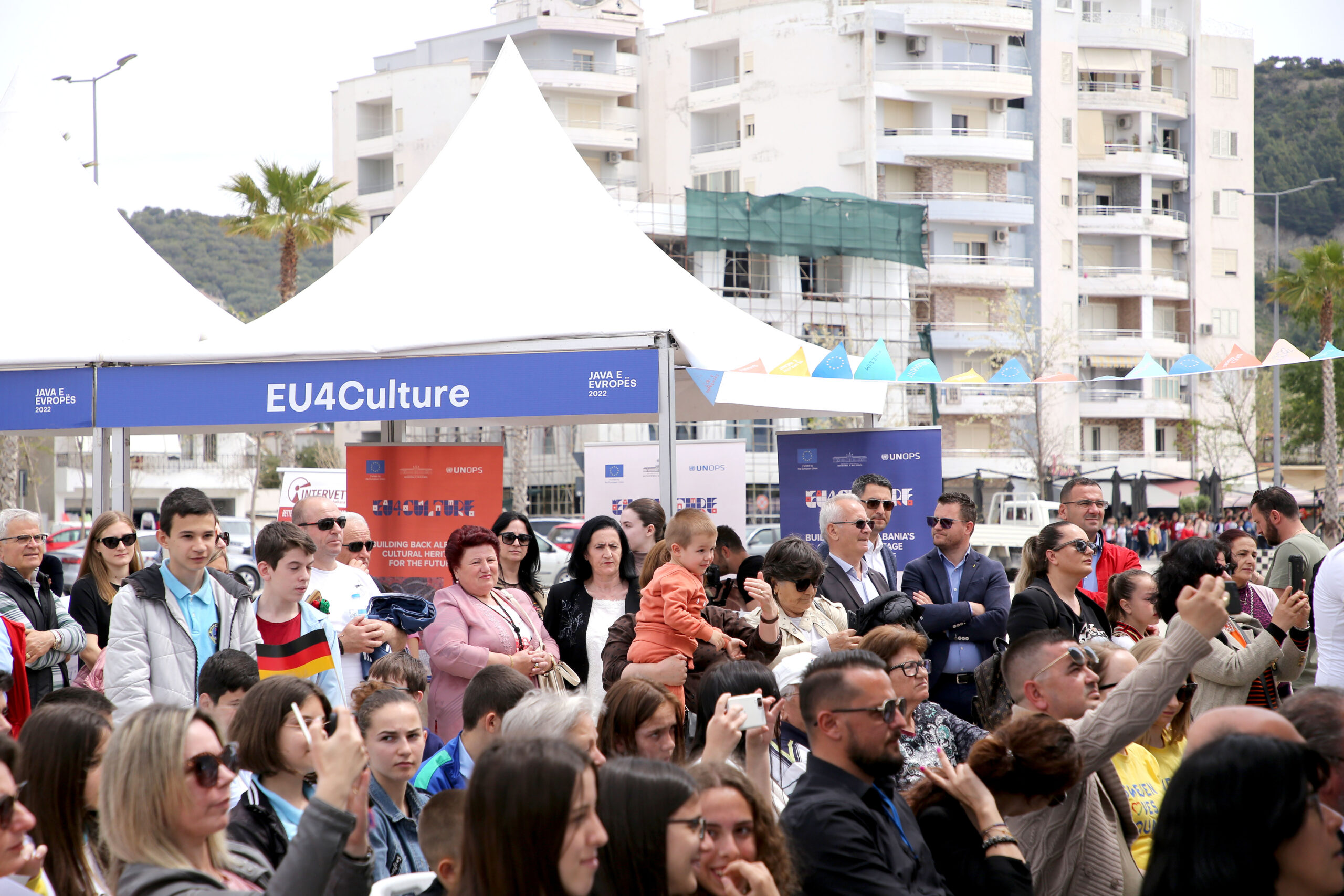 EU4Culture programme organized three public events in the towns of Shkodra, Vlora and Albania's capital Tirana within the Europe Week. The events brought together families, representatives of civil society, academia, expert communities and students to celebrate and promote common European values and raise awareness of the Albanian partnership with the European Union.
Weaving and pottery are centuries-old traditional crafts that are loved, cherished and preserved across Albania and each region boasts its own authentic patterns, techniques and secrets passed from generation to generation. In this context, EU4Culture partnered with a leading crafts NGO and organized masterclasses for pre- and primary-school children who had an opportunity to learn about their national traditions and have a lot of fun at the same time.
The programme developed a "snakes and ladder" type floor game about heritage sites that was very popular with teenagers and provided a great opportunity for both adults and children to learn about Albanian cultural treasures and the project's work in restoring them.
While the children were having fun playing it gave the programme staff an opportunity to engage with their parents in meaningful conversations about what cultural heritage really means to them, what sites need to be restored and which tourist routes were worth visiting and why. For this audience EU4Culture developed a practical tourist map highlighting sites that the project is currently restoring. It was very well received by the European Union and the Ministry of Culture and, as the next step, it is planned to distribute it through the most popular museums, hotels and airports for the upcoming tourist season.
For the people who were interested in exploring nuances and peculiarities of the restoration works EU4Culture organized open workshops conducted by the National Historical Museum Mosaic Atelier expert who explained the complexities of the works and challenges engineers had to tackle while implementing the project.
For the younger audiences, EU4Culture organized a photozone offering them an opportunity to refresh their social media profiles with their photos posing as Albanian national heroes from the iconic Mosaic of the National Historical Museum that the project is currently restoring. The EU Delegation Facebook post about this photo opportunity went viral and got more than 900 likes, 80 comments and 25 shares.
"We are loudly and proudly reaffirming the values on which the European Union is built: respect for human dignity, freedom, democracy, rule of law, respect for human rights, nondiscrimination, and gender equality. This is what we will try to promote not only every day of the year but with a special focus during these Europe days" noted Alexis Hupin, Chargé D'Affaires of the EU Delegation to Albania opening the Europe Week first event in Shkodra.