Venetian Tower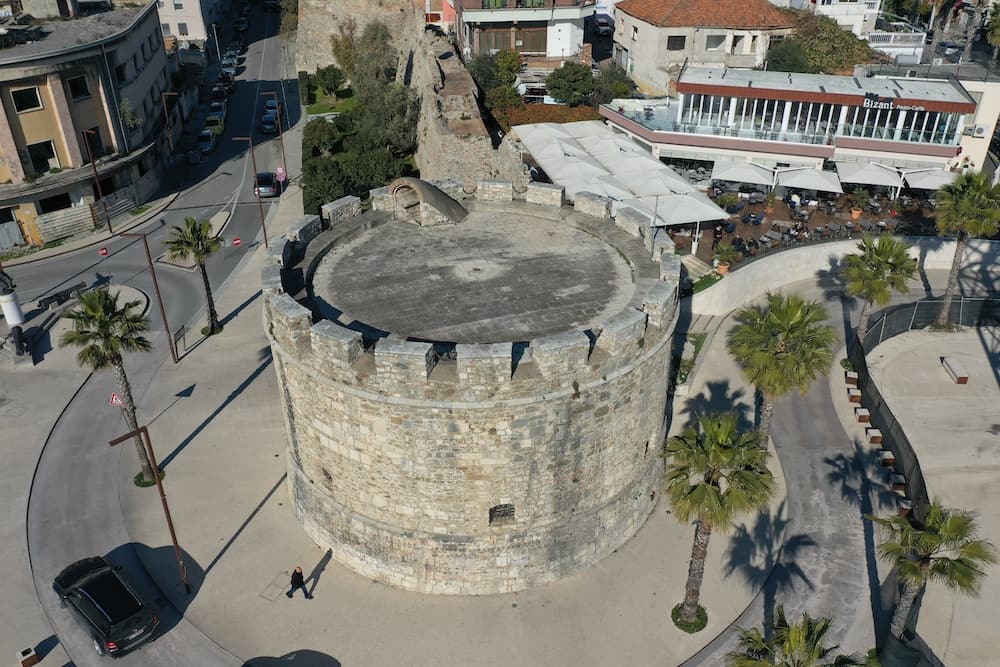 HISTORY AND BACKGROUND
The Venetian Tower is one of the most interesting historical defensive structures of Durrës. A part of the Byzantine fortress of Durrës (declared a monument of culture of the first category), which was considered one of the most powerful fortresses of the west coast of the Adriatic sea. The fortress that we see today originates from the first building campaigns of Byzantine Emperor Anastasius I (491–518), who was from Durrës (ancient Dyrrhachium), whereas the Venetian tower was built on top of the Byzantine tower remains around the XV century and equipped with cannons defending the city from the sea. In fact, it was built as a tower specifically designed for artillery and served as a key observation point of the surrounding area.
RENOVATION WORKS
The Venetian Tower was one of the Cultural Heritage sites damaged by the 2019 earthquake. The renovation works focused on preserving the original features of the building and restoring key components, while fitting into contemporary standards. 
FIRST CULTURAL HERITAGE INTERPRETATION CENTER
The renovated Venetian Tower will serve as the first Cultural Heritage Interpretation Centre and a starting point for local and international tourists visiting the city. The centre will provide different types of history interpretation activities through modern digital and multimedia storytelling tools highlighting the most important events  and milestones of Durres ancient history. The visitors will be able to explore Durres history through multimedia dome projection, immerse in the ancient past through virtual and augmented reality experiences, get information about Durres history through an app, on-site tablets and audio guides in five languages .
CULTURAL HERITAGE MANAGEMENT AND BUSINESS PLANS
Currently, the сultural heritage management and business plans are being  finalised for the Venetian Tower. It is foreseen for Venetian Tower to become a heritage asset under the administration of the Museum Center of Durres. An increased influx of visitors is expected to result in an increased income that will be used for better human resources  management and maintenance of this valuable site.
GRANTS PROGRAMME
The EU4Culture Grants programme will support boosting socio-economic development of local communities by promoting traditional and innovative crafts and cultural tourism as engines for local economic development. Particular focus is given to supporting local initiatives promoting socio-economic development of youth, women and underprivileged groups. Four (out of 11 EU4Culture grant projects currently implemented) focus on Durres linking communities with cultural heritage sites, including the Venetian Tower.