Experts Discuss New Design for the National Historical Museum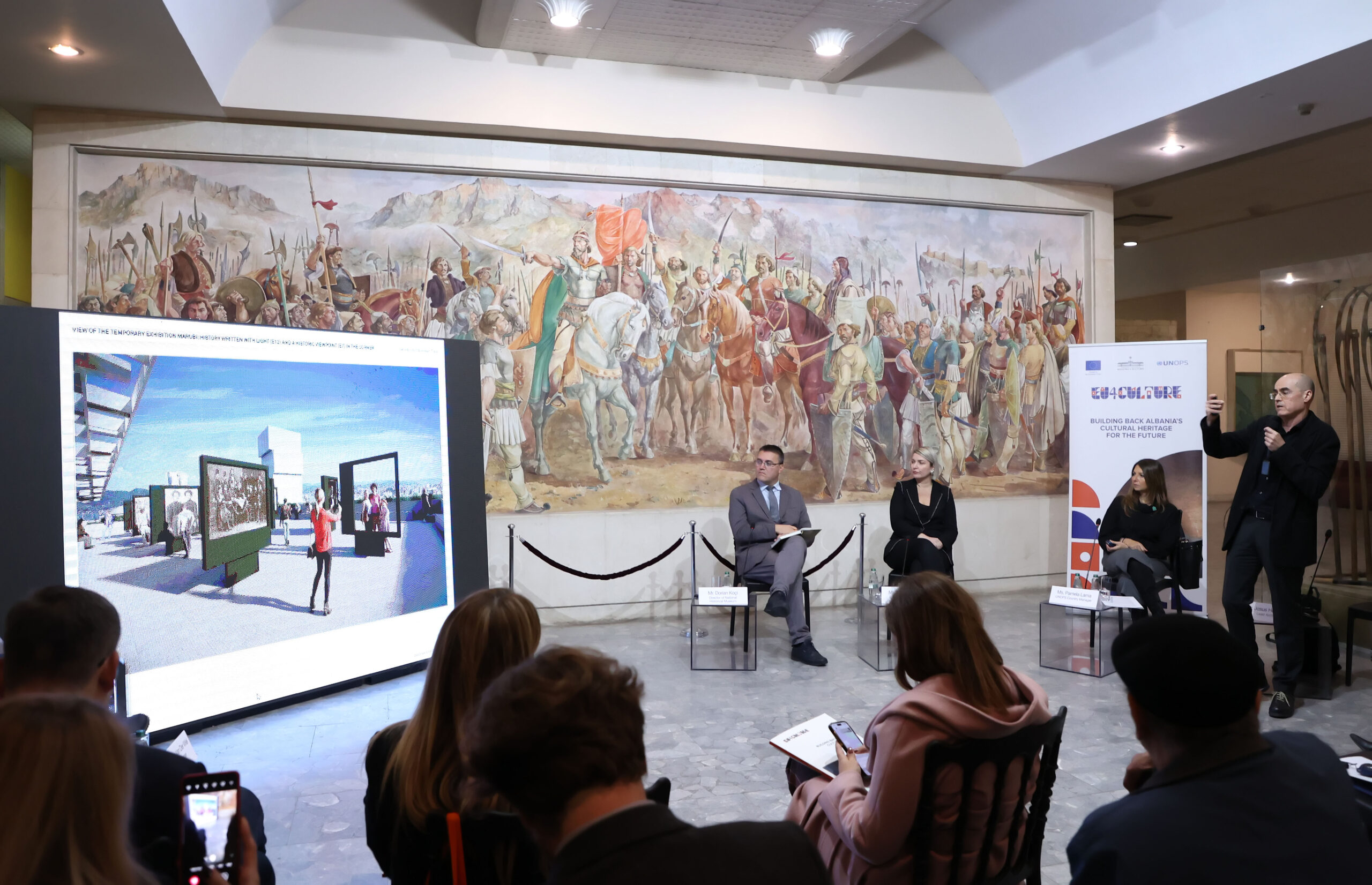 24 November 2022
EU4Culture consultants presented experts and key stakeholders a preliminary draft design for the restoration of the building and the reconceptualization of museum displays at the National Historical Museum. The presentation event brought together cultural heritage experts and is only the first in a series of planned consultations engaging key stakeholders in order to collect professional views, comments and suggestions that will be taken into consideration during further development of the design. Part of the presentation included discussion by a panel led by the Minister of Culture Elva Margariti, UNOPS Country Manager Pamela Lama, and the Director of the National Historical Museum Dorian Koci.
The National Historical Museum is the most important and the largest Museum in the country, and it hosts a number of exhibitions featuring artifacts and representing narratives of different historical periods. Reconceptualizing a museum is not a simple process, it requires engagement of specialists from different fields. The team that is working on the design comprises 31 specialists from different fields, including architects, historians, archaeologists, ethnographers, iconographers and designers.
The new design envisages more permanent and temporary exhibition spaces, making it as dynamic as possible. It is also planned to have more educational spaces for activities for children, as well as experts meetings, workshops, bookstores, facilities for the visitors and spaces dedicated to the digitization and restoration of the artifacts.
The design for the restoration of the building and the reconceptualization of museum displays comes as a second phase intervention implemented within EU4Culture framework. The first phase includes restoration of the historical facade of the Museum. The restoration of the facade is currently ongoing and is expected to be finalized in the coming months.
The project is funded by the European Union and is implemented by UNOPS in close partnership with the Ministry of Culture and it aims at remedying damages of earthquakes on a number of cultural heritage sites.