New Grants Call Will Help Engage Artisans and Promote Cultural Heritage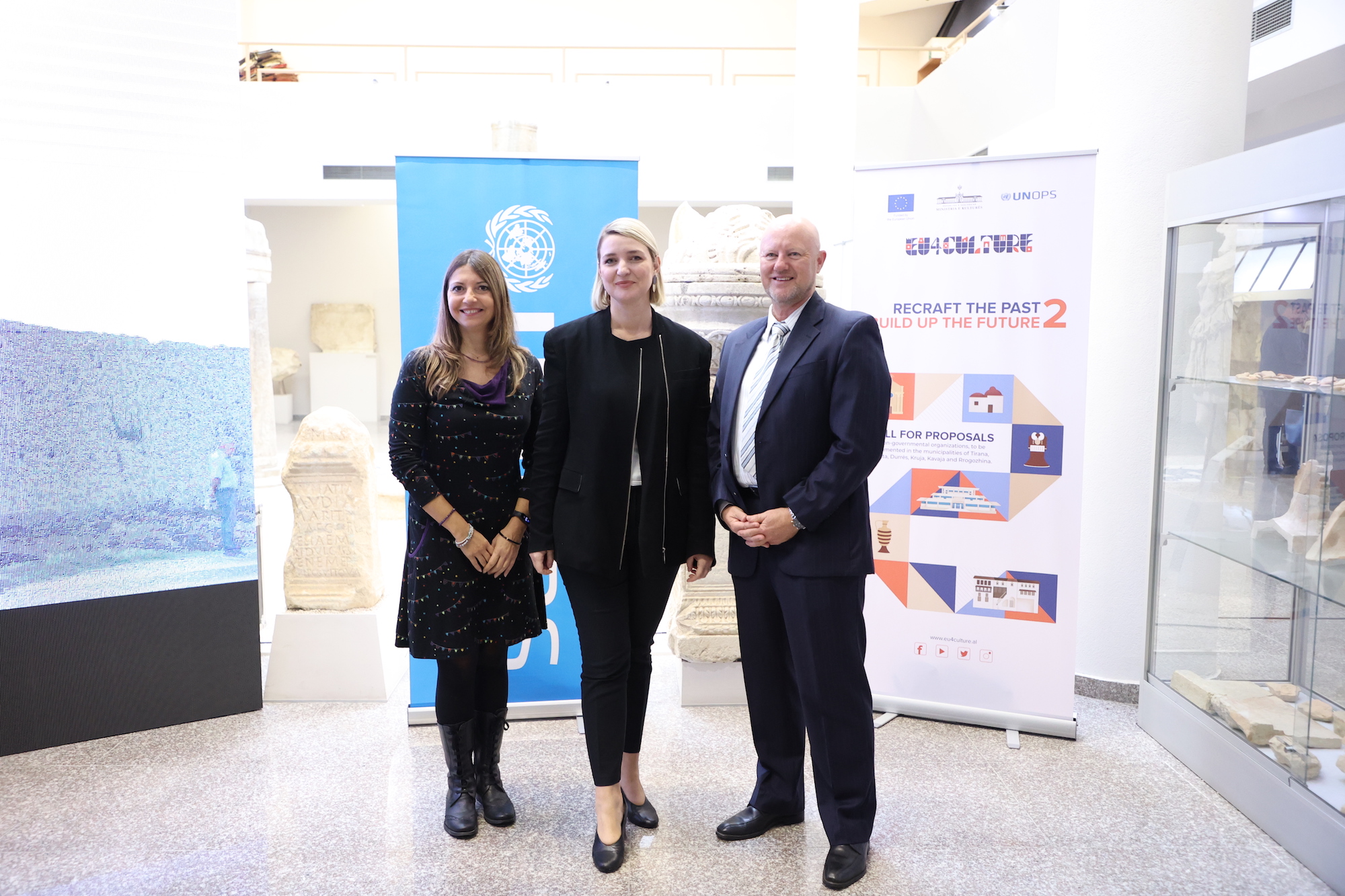 Representatives from the Ministry of Culture, EU Delegation, UNOPS, local government officials, media representatives, experts from the heritage institutions and NGOs gathered at the Archeological Museum of Durres for a launch of the Call for Grants "RECRAFT THE PAST: Build Up the Future II".
The Call aims at supporting local entrepreneurship, artisanship and cultural initiatives evolving around renovated cultural heritage sites providing a direct boost to the local economy.
Opening the event the Minister of Culture Elva Margariti noted that: "The EU4Culture is not just a program of rebuilding monuments destroyed by the earthquake, but also a program of community support. Without engagement of communities, these monuments will remain lifeless ruins. It is the communities that give them a second life, that convey our intangible heritage and make these monuments attractive to visitors. Therefore, community support is one of the most important ways of recovery after destruction"
"We will prioritize proposals by youth organisations promoting gender equality and mainstreaming youth inclusion and environmental sustainability, operating in the municipalities of Tirana, Mirdita (Rubik), Durres, Kavaja, Rrogozhina and Kruja that promote activities around EU4Culture sites and valorise their respective territories and economic activities" – noted Pamela Lama, UNOPS Albania Country Manager.
The call will target projects related to preservation and restoration of artifacts and revival of old and waning crafts; encouragement of new and innovative ways of creating crafts that are inspired by Albania's cultural heritage in the affected territories; support to cultural tourism entrepreneurship and development of digital products and innovative cultural and creative activities.
"The title of this call is "Recraft the past, Build up the future", which is very telling. It is about the past that we want to restore to its original beauty by respecting and bringing it to the next generation. It is about creating a value chain that allows the citizens living around the area to benefit as well" said Hubert Perr, Head of Cooperation at the EU Delegation to Albania
The funding per project ranges from 10.000 USD to 50.000 USD while the implementation timeline is 3-12 months.