7 January 2022 – Interview with Professor Gabriela Krist.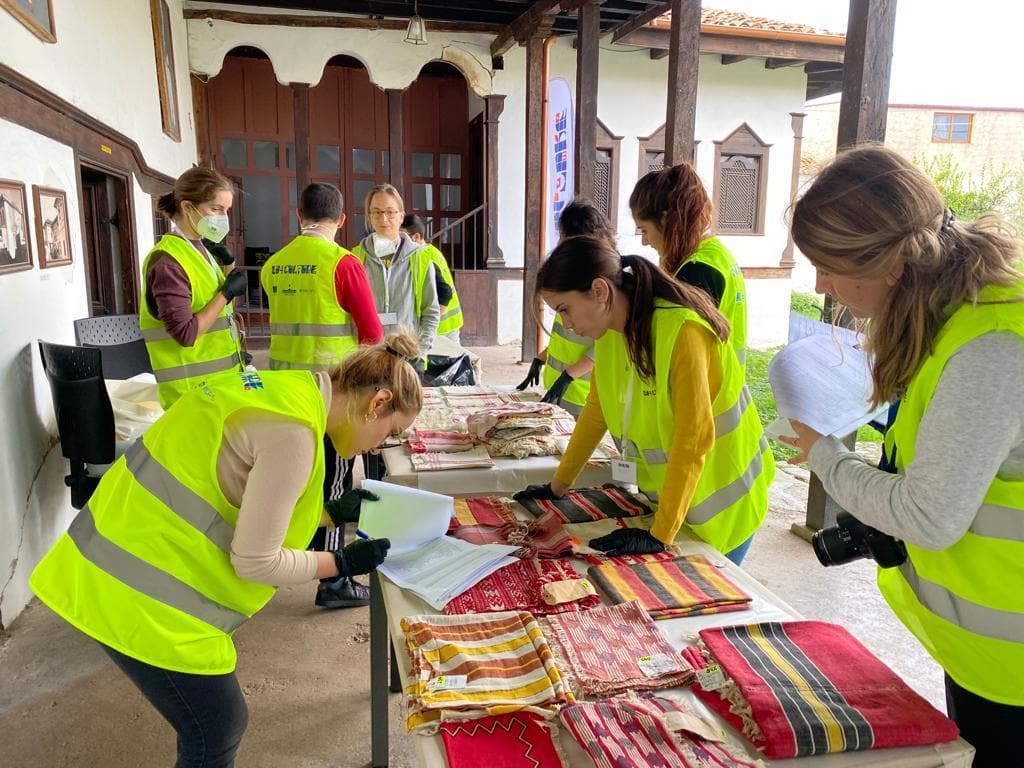 Interview for Trailblazing Magazine
Professor Gabriela Krist
University of Applied Arts, Institute of Conservation, Vienna
Q/A
1. Welcome to Albania Professor Krist! So happy to have you in our country. What is your first impression about this visit and the cooperation with UNOPS through the EU4Culture programme?
I first came to Albania this summer with two colleagues, stone conservators, and our duty was to check together with UNOPS, the sites damaged by the earthquake including the museums. During our mission we had this great opportunity to travel throughout the country, from Durrës, to Kavaja, Kruja, Bashtova and Lezha castle, Durrës Archaeological Museum and of course the National Historic Museum in Tirana. We acquired a real impression of the richness of Albanian culture and the condition of the damaged sites. It was also important to us to discuss with local experts and communities, and hear their views. That was really an important experience for me. I have had the opportunity to travel in the Balkans in the past but Albania is a special place for me with its natural beauty, culture and people.
2. What about the cooperation with the EU4Culture programme?
This whole opportunity started a year ago, back in 2020, when I was engaged to advise on conservation and restoration, although due to the pandemic crisis we had to postpone our travels. At the time it was my first experience with UNOPS. It was great to learn that the EU4Culture programme was all about how UNOPS is supporting Albania through EU funding to conserve/preserve its cultural heritage. UNOPS mandate in infrastructure, project management and procurement, combined with the knowledge of various cultural heritage experts and with the solid cooperation of the Ministry of Culture, is an excellent basis to deliver this very complex project. I was more than flattered to commence this cooperation.
3. How long have you been an art conservator and restorer? How did you get into conservation and restoration?
Oh la la, this is a good question. It had started already in high school. My wish was to do something in the artistic field because I like drawing and painting. In my parents' house, antiquity or fine arts were always a topic of discussion. Then I got to know old conservators and developed a keen interest in that field. During high school I could see what they were doing and then in the final years there was this wish to start this profession. After my high school graduation in 1974 I finally entered the Academy of Fine Arts in Vienna to become a restorer. I have not regretted a single day since then!
4. What is your particular area of expertise?
I am classically educated as a painting conservator and after these studies I commenced working at the Academy of Fine Arts in Vienna, a well known institution in Austria where I have been a lecturer of painting conservation. One of my biggest wishes has always been to become a university professor. I finished my PHD in art history later on. I left the academy because I obtained a job at ICCROM (The International Centre for the Study of the Preservation and Restoration of Cultural Property) in Rome, a UNESCO funded organization that was established after the Second World War. During my eight years working at ICCROM I got to learn a lot about working in an international context. I was responsible for the Asia region at that time and we coordinated postgraduate training programs in India and Japan. It was a good experience. After that, I worked for the Central Monuments Preservation Office (Bundesdenkmalamt-BDA) in Vienna who are in charge of all the protected monuments in our country. Finally, in 1999, I was appointed as a professor to the University of the Applied Arts in Vienna.
5. What excites you the most about the EU4Culture Programme in Albania?
I was very impressed by the substantial cultural heritage you have in this country, from archaeological sites to ethnographic museums. I found it very useful that UNOPS is coordinating this project not only to repair earthquake damage but also to establish new concepts of interpretation, display and exhibition. In addition to repairing affected cultural sites, UNOPS is also t working with experts to enhance museum standards. I believe this is extremely important for this country because tourism and especially cultural tourism will play an important role for economic development and to raise living standards.
6. What will this experience bring to you?
I am always keen to learn, and I think that we live in a time where you cannot say you are an expert or you have learnt enough. You have the possibility to see different contexts and perspectives and you must react flexibly to all the specific needs in an individual country. I feel this experience enriches me both professionally and personally. Moreover, I don't work here alone but with a team of experts. My colleagues are with me and their contributions are very important. You work here with different materials and you have to adapt and react to local challenges.
Another exciting plan we have is that during next July (2022) we aim to organize a summer school where my students from the University of Applied Arts in Vienna together with the students of University of Tirana will be engaged in the EU4Culture programme. Our focus will be on the Ethnographic Museums of Kruja and Kavaja. It will be a one month working campaign and a unique opportunity for them all to work together on the important textiles within the two collections.
7. Based on your long experience, how would you say art conservation/restoration has changed over the years?
This is a good question actually. We are all aware that the funds for conservation or for culture are limited and they are not increasing. We must also think of the restoration part. If there is financial investment in preservation and conservation matters, that money should be invested wisely. That is why I am very pleased to see the EU's commitment to Culture in Albania through such a great and important investment.
Over the last ten years there has been a shift in the conservation approach. We do not only deal with single objects or single monuments but we have to take a holistic, more global view, caring for collections, investing money not for a single item but trying to keep the collection alive and in good condition. These are the new trends. We are more and more referring to preventive conservation, working with the environment around the museum's objects. I think this is the best thing we can do at the moment, to deal with the collections and with new concepts to care also for monuments and sites, for example through proper monitoring and maintenance.