18 May 2022 – Albanian Museums Reimagined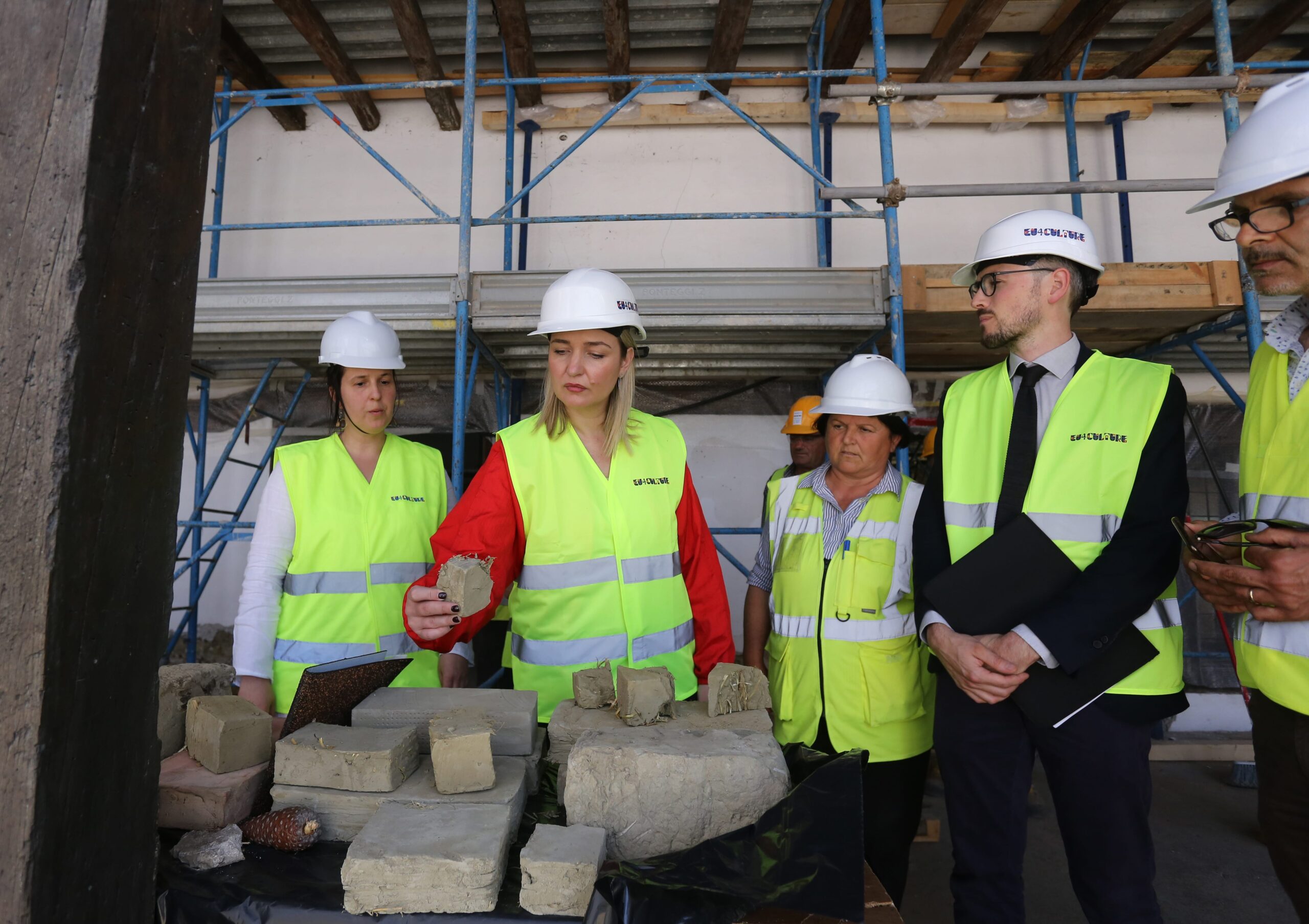 There are approximately 104,000 museums in the world and about 53 of them are in Albania. Museums are instrumental for fostering cultural exchange and enrichment as well as for promoting mutual understanding, cooperation and peace.
Minister of Culture Elva Margariti together with the Deputy Head of the Political Section of the EU Delegation to Albania, Jean-Baptiste Le Bras, visited Kavaja to monitor the works at the Ethnographic Museum, an important cultural heritage site which is currently being restored under the EU4Culture programme, funded by the European Union and implemented by UNOPS, in close cooperation with the Ministry of Culture.
Currently, the Ethnographic Museum in Kruja and Kavaja are being restored under the EUCulture programme and the works at the Archaeological Museum in Durres are about to start. In parallel, the project experts are working closely with the Ministry of Culture to repair the iconic facade Mosaic and developing a new design for the National Historical Museum in Tirana.
Working with Museums which were damaged by earthquakes is a complicated operation, requiring skill and involvement of diverse expertise, including museum specialists, artifact and material conservators, interpretation specialists, conservation architects, civil, mechanical and electrical engineers.
Once the conservation design is finalized, all the artifacts need to be secured. The objects will be to be taken off displays, cleaned, packed and then stored while taking into account the type, size, condition and the material artifact is made from. Once all the artifacts are securely stored, the physical conservation works can commence. While conservation works are ongoing, the inventories of all the artifacts are checked.
Every artifact is a valuable object per se, however when they are brought together in a meaningful and well-thought way they can tell a story and make history live. Sometimes, the storytelling power has nothing to do with the value, age, or beauty of an object. Instead, it is about making an emotional connection by displaying an object that crossed both time and space to appear before you. Exposure to an artifact brings the visitor closer to the past in a way that words alone often cannot do. Hence, the artifacts have to be selected and the way they would be exposed is carefully designed. Reconceptualization of the exposition line will aim the narrative to become more clear, comprehensive and appealing to the visitors of all ages.
There are a number of ways EU4Culture is planning to conduct storytelling and interpretation in museums under restoration. The project plans to develop and install both digital and classical interpretation. The digital will include all aspects of digital reconstruction and narrative of social and cultural context of life lived in these buildings, while the classical one would be exposing these contexts through written words and museum labels.
Besides digital narrative and interpretation of historical facts, EU4Culture will be focusing on additional elements of storytelling including immersive and augmented realities based on historical facts and to be experienced in nowadays museums. Exciting times ahead!