Ethnographic Museum in Kavaja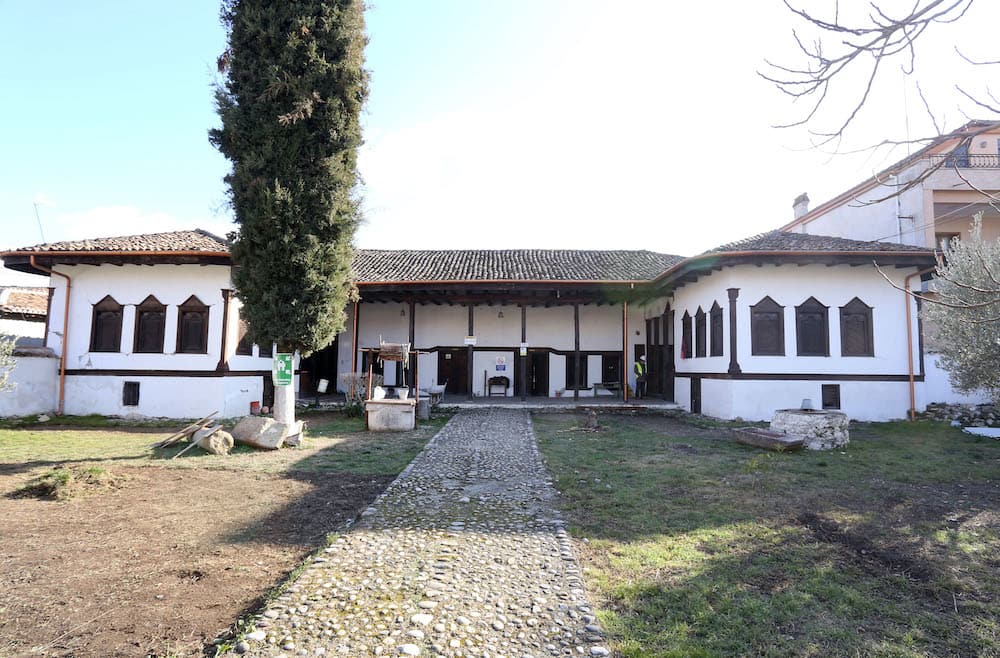 The Ethnographic museum in Kavaja represents architectural design, lifestyles and economies of the region within a rare example of a traditional 18thc house. The museum has the potential to be an inspirational and self-sustaining business model for museums across the country.
Taking into consideration the existing conditions, the building is in poor condition; Built in 1800 it has mostly survived to this day with no major changes. Serious problems are noted in the roof and bearing timber structures as well as across the adobe walls; A number of cracks are noted in the plaster surfaces. The plaster surfaces in lower sections of the walls seem to be cement based; The artefacts have been temporarily removed. Although catalogued, historic textile are stored in chests with no appropriate upkeep.
Interventions proposed and intended to be implemented for site rehabilitation, regarding EU4Culture Project include:
DESIGN
Conservation scope
– Structural stabilization of badly damaged adobe masonry
– Full conservation of external, internal surfaces and roof
– Documentation and design of conservation baseline for all the furniture, tools and textiles
– Design of exhibition boxes and platforms following contemporary museum design
– Disaster risk management
– Maintenance program and plans
Infrastructure
– Electrical installations for lighting
– Surveillance and safety system
– Heating and ventilation system
– Upgrade of visitors' utilities and museum storage and conservation facilities
– Audio and digital system for interpretation purposes
– Urban landscaping around the museum to provide the space outdoor events
– Health and safety, emergency evacuation, fire alarms and protection
CONSULTATIONS AND DESIGN
Revitalization scope
– Content creation for digital interpretation
– Interactive interpretation of the ethnography of kavaja and neighbouring cities
– Tactile interpretation and overall establishment of universal access
– Identifying, engaging and supporting local producers and artisans for events relating to demonstration of traditional techniques of production and similar
– Branding and visual identity
MANAGEMENT AND BUSINESS PLAN
Management
– Designing structure for managing visitors' and functions for local engagement
– Analysing for additional streams of revenue
– Designing aspects of events and activities for all age and interest groups
GRANTS
Local socio economic component (grant schemes and practical training)
– Creating a producing workshop for ceramic and clay based products at the museum – local artisans encouraged to create a producing workshop at the museum for demonstration purposes. The production of ceramic and clay based products is part of a local tradition. the prototypes produced to be sold at the museum